Rebekah Strangarity shares with us some of the blessings and challenges of life as a single missionary.
About Rebekah Strangarity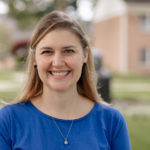 Rebekah Strangarity grew up in Lancaster County, PA and attended Lancaster Bible College (B.S., in Bible and TESOL), Western Seminary (M.A. in Ministry Leadership-Pastoral Care to Women), and Tel Aviv University (M.A. in Trauma and Crisis Studies). She has been teaching at LBC since August 2020. Prior to that, she served for five years in Israel where she helped start and run a shelter for prostitutes, start a counseling center, and teach Bible studies. While living in Portland, Oregon, she helped direct a ministry for trafficked teenagers. Her passion is seeing women walk in wholeness, to find freedom and healing from abuse, and grow theologically strong. Rebekah has also been a champion of the ministry of Sanctuary Inn since it's beginning; she now serves on the Sanctuary Inn Board.
Resources: