Perry Bradford, Director of Barnabas International, shares about his life and the work of Barnabas providing pastoral care for missionaries all across the globe.
About Perry Bradford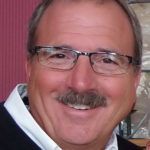 Perry and Sandi Bradford began their missionary journey in 1980 with Wycliffe Bible Translators. In 1994, they returned to the United States after 10 years of service in Papua New Guinea to join Barnabas International. Perry currently serves as the Executive Director of Barnabas. For 17 years Sandi served as the Director of Women's Ministries for Calvary Community Church in Williams Bay, WI. Together, Perry and Sandi have a heart to shepherd missionaries and national church leaders around the globe. They are the proud parents of 3 adult children and 7 grandchildren!
Resources:
• Barnabas International - barnabas.org
Providing pastoral care, missionary and MK care, and encouragement. Their focus is traveling to the missionary on the field. They also provide excellent conferences and retreats. Pastors to Missionaries; Equipping Women International, Debriefing Retreats etc.
• MuKappa International - mukappa.org
Is a collegiate organization for students who have grown up in a cross-cultural setting (campus based and online for MK's to meet other MK's and share their experiences.)